The Arsenic Crisis
An environmental health disaster is unfolding in West Bengal and Bangladesh. Tens of millions of persons in many districts are drinking ground water with arsenic concentrations far above acceptable levels. Thousands of people have already been diagnosed with poisoning symptoms, even though much of the at-risk population has not yet been assessed for arsenic-related health problems.

Over the last two decades in Bengal, untreated tube well water was heavily promoted and developed as a safe and environmentally acceptable alternative to microbiologically unsafe untreated surface water. In the 1980s, scientists began finding evidence of arsenic contamination, but only very recently (mid-1990s) has the crisis emerged into broad public awareness. The origin of the arsenic pollution is geological in this case - the arsenic is released to groundwater under naturally occurring aquifer conditions.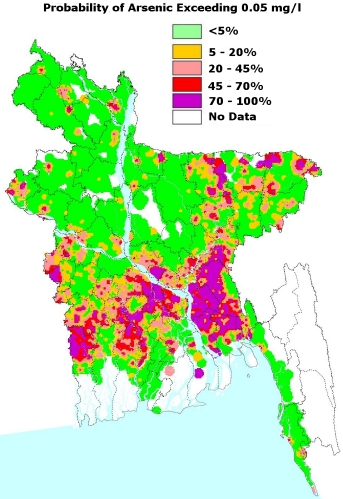 "Analyses based on 18,417 (4,125 lab) aggregated by union. The surface estimated based on the union-wise probability assigned to the centroid of each union. Calculation by IDW using a fixed radius of 7.5 km, a 1.5 km grid, and 3.125 union data points."
Color version of Fig. 1, Arsenic in groundwater: testing pollution mechanisms for sedimentary aquifers in Bangladesh. J.M. McArthur, P. Ravenscroft, S. Safiullah and M.F. Thirlwall. Water Resources Research, in press. © J.M. McArthur. View the paper at the London Arsenic Group website.
Subscribe to ACN
Subscribe to Arsenic Crisis News for regular updates on the crisis.
Search This Site
Site Map
External arsenic links - Comprehensive, fully-annotaed lists of external links organized in the following areas:
Arsenic reference list - Comprehensive list of relevant articles & books, with links to abstracts & full text
Arsenic conferences - With links to abstracts & proceedings
Arsenic info in the real world - Printed books reports, brochures, newsletters, videos, &c available for order; document collections; and such like real-world off-line things
Arsenic files stored at this site - Documents & other information stored at this site - see list.
Arsenic files stored at yahoogroups.com - in the files area of the current and former arsenic discussion groups:
Site update history - What was added when.
Arsenic Crisis News
Arsenic Crisis News is the largest email newsletter and discussion group dedicated to the Bengal arsenic crisis and related situations worldwide. ACN currently has 1100+ subscribers in 30+ countries around the world. Subscribe! Topics covered include:
Arsenic geochemistry, geohydrology, measurement & analysis techniques, etc.
Alternative water supplies & water treatment technologies
Epidemiology, disease mechanisms, symptoms, treatments